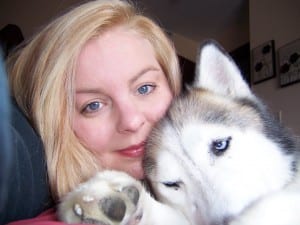 Michele Meyer, ABCDT
Certified Dog Trainer and Behavior Consultant
Business Owner of Dog Gone Good Dog Training Inc.  
Graduate of Animal Behavior College
Member of the International Association of Canine Professionals
Member of the Association of Pet Dog Trainers (APDT)
Dog owner and pet lover dedicated to working with dogs and their people
Michele has worked as a consultant in the behavior modification field since 1995 and has specialized in canine behavior since April 2002.
Michele's dog, Persia, passed the AKC Canine Good Citizen test and the therapy dog evaluation with the highest score possible. Meet Persia
Michele also recently rescued a senior dog named Poochie Meet Poochie

Michele on Customer Service:
"I love being a small business owner.  Prior to starting my own business, I managed and helped run companies with many employees. Although there are benefits of expanding, there are also many benefits of remaining a small business. I feel at this time, I can best meet my high standard for customer service by staying a small business and not letting go of the personal touch that has been a big part of Dog Gone Good's success. I'm not just in the business for the animals, but also for my love and compassion for people."   
Learn more about Michele's training methods and teaching style.
I am determined to decrease the horrifying large number of dogs being euthanized in the Chicagoland area and across the nation by helping dogs remain in their homes and out of shelters.  Dog training is a major part of the solution to this ongoing tragedy. A dog can be trained to fit into a home and lifestyle, but the key word is TRAINED.
Dog Gone Good can help your dog be a pawsitively pleasant pet.
Michele Meyer
Owner & Trainer