How Dog Gone Good Began
My husband convinced me to go look at Siberian Husky puppies. I agreed to go look as long as he agreed that we were not getting one. "Too much hair" I said. We went into the play area and my husband sat down on the floor close to the door and I knelt down in the back. She came in and ran right past him, jumped up on my lap, put her paws on my shoulders, and licked my face. There was no turning back. "We'll take her" I said. My husband desperately wanted a Husky but Persia claimed me as her human. Little did I know then what an amazing journey was ahead of us.
Persia was my inspiration to become a dog trainer and open up my own dog training business. She was my demo dog and business partner for 12 years. She demonstrated at all of Dog Gone Good's group classes, fundraisers, and special events. She entertained and helped train thousands of dogs and their families. Persia was amazing at her job and I think she knew it. She was very proud of herself and it was very apparent that she loved her job. Persia helped save many lives since proper training keeps dogs in their homes and out of shelters.
Persia was such a good girl and a very sweet soul and brought so much joy into so many lives. She received her AKC Canine Good Citizen certification at a very young age and became a registered therapy dog later in life. She passed her therapy dog evaluation with the highest score possible. She knew over 20 tricks and 40 commands!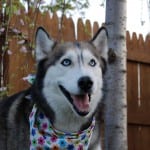 Persia lived a long, happy, and meaningful life before crossing the Rainbow Bridge. Persia taught me so many life lessons and I find that I am continuing to learn from her even now that she is gone. It was no mistake her coming into my life on that September day. The universe planned for us to meet and Persia helped me discover my purpose in life.
Persia will continue to help many more dogs and their families for many years to come since Dog Gone Good would not exist if it weren't for her. She has also inspired me to become a foster parent and help keep senior dogs out of shelters while they wait to find their forever homes. Persia has accomplished so much in her short time here but most importantly, she was a family member and brought endless love and joy to all of us who loved her. She was so sweet and such a good girl and will be forever remembered, forever loved, and forever missed!
Check out Persia's Dog Tricks Video