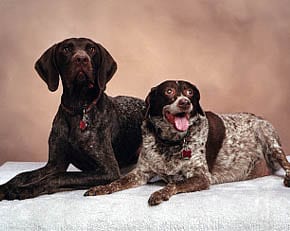 Michele,
I just wanted to send you a copy of the great photos I had done of the dogs.
If it wasn't for your training guidance, this picture would have never taken place. The photographer commented on what well-trained dogs they were (in Hannah's case at 14 she can't help being well-behaved). People shopping in the Orland Square JC Penney (where the pix were done) were also marveling at how well-mannered the dogs were.
Thanks again for the guidance!
Gayle from Homewood, IL