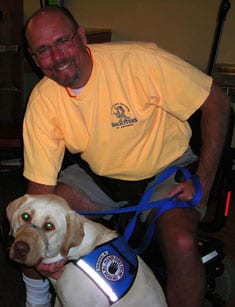 Hi Michele,
Louie was a very energetic Labrador Retriever puppy.
Since I have MS I knew that many dog training activities would be difficult and I was worried that my electric "scooter" might spook other puppies.
Michele came to my home and she figured-out how to adapt the "standard" puppy and basic obedience command to my situation. She also provided suggestions how to obtain the socialization skills we missed by not attending a group class.
A year and a half later, I am now training Louie to be my assistance dog. All the behaviors he is learning are just adaptations or combinations of the building blocks Michele taught us.
Thanks Michele!
Mike from Wheaton, IL