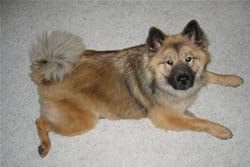 Michele,
I just wanted to say thank you for all the help and other great tools you gave my husband, Kris, and I in training Gracie, our year and half year old Chow/Siberian Husky pup. Before your basic obedience class, Gracie was in total control, of the house, and of us. She knew the everyday commands, but only listened to them when she felt like it. She was a monster to walk, always pulling and yanking on her leash whenever another animal, human, or just a loose piece of paper would enter her eyesight.
She was never able to be crated when we were gone, causing accidents. I was afraid we would have to give her up being we couldn't be with her all the time.
Then we signed up for your class…
Well, seven weeks later, Gracie is a new dog. She now listens to every command we give her. She is no longer a monster-walker, with the help of her gentle leader. She is now crate-trained, and loving her 'new' home. I just cannot thank you enough for helping us in giving her the proper training.
Your class was excellent, and we look forward to advancing Gracie's learning. Thank you so very much!
~Amanda
Update: Amanda and her husband continued to take Gracie and their new dog Kerry to Dog Gone Good's classes. They also contacted Dog Gone Good for baby preparation advise when they got the good news that they were expecting a new addition to their family. Dog Gone Good received the following email from Amanda after the birth of their baby.
Hi Michele,
How are you? I just had to stop by and thank you… With the tips you gave me on our phone consult, both Kerry and Gracie are doing great with our daughter. From the day we brought Jackie home, both dogs have been extremely friendly with her and love having her around. Both dogs love to be near her and try to be extra careful around her, although Kerry forgets from time to time that she's so big. 🙂 I don't know what we would have done with them had we not able to make such a smooth transition. As usual, you were extremely helpful and it's helped us all.
Although I don't know when we'll be back, we would like to keep up with both dogs' training. I still try to stay up to date with where you are teaching so don't be surprised if you see us walking in one day. Take care (give our best to Persia) and we'll talk to you soon! 🙂
Love,
The T Family