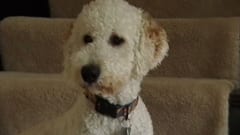 Dear Michele,
Thank you so much for teaching our family how to nurture a behaved dog in our house. Before we started working with you, our dog Goldie, who we all love very much, was dominating our house. Even though we had been through other training, she really was not responding to our commands.
With your help, we learned how to show her that she was not in charge of the humans. She is now 100 times better with respecting us and doing what we ask when we ask. Her problem behaviors like ignoring the "come" command are being resolved.
Goldie is so much nicer to be around and lots of other people are commenting on the positive changes they see, too. We will definitely call you again in the future for any additional help we might need and would recommend you to anyone else we know who needs a helping hand with their dog.
You are extremely professional and it was a pleasure working with you.
Thank you again!
Marcy R. from Naperville, IL