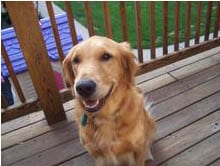 Hi Michele,
I thought I would just let you know how much I appreciated Duke's obedience just recently.
We were headed out the door for a trip when Duke took the opportunity to get out of the not completely closed front screen door. He dashed across the street and into the yard, ready for exploration. I sensed he knew we were going away without him as well.
Anyhow, I put the last bag in the car, crossed the street and called "front" and yes he did, came right to me, no hesitation. Back to the house and a good treat.
In the past I could have been chasing him for a half-mile and not happy when I finally caught him. Now this was a win-win all around. Thanks.
He also put on a show when our daughter had a sleepover with 8 of her girlfriends.
They all enjoyed watching his tricks. Just thought you'd like to know how Duke's classes have really paid off for our everyday life.
Gratefully,
Kathy from Evergreen Park, IL