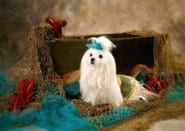 Hi Michele,
I just wanted to thank you for the great success I had with Bebe, my 4 yr old Maltese, due to your classes!
Bebe had to pose for a modeling shoot for 4 hours to prepare for a calendar contest. Due to the training I learned from with you, she was just remarkable! She stood still and held poses for over 100 shots and the photographer was just amazed at how well trained she was!
Just this past week, we took Bebe downtown for a commercial audition for WCUI television. The camera crew and director said she was one of the best trained dogs they had auditioned!
Again, if it weren't for your classes she would've never been so focused and prepared for these 2 great opportunities! She won Miss August for the Americas TopDog Model calendar AND she won a spot on the commercial for WCUI!! Thanks so much for your great abilities to teach us "owners" what we need to have our dogs succeed!
Denise G. from Addison, IL